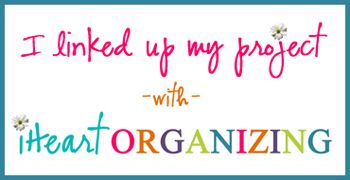 Check out this awesome blog,
I Heart Organizing
. She posts monthly projects to get you organized. I sort of failed on
my "Happiness Project."
I just never got around to cracking that book open. This blog is my new happiness project and fits into my life much easier.
March's project was a family binder, or in my case binder(s). Now I'm super organized with tabs for medical, auto, Tucker, emergency, important dates, take-out menus (muy importante en mi casa), blog ideas, and on and on. I had so much fun doing this. I even went as far as to purchase the exact binder she used because it was so cute and matched the free templates so well.
She will keep her amazing free templates online until April 9 so hurry up and download them!
This month -
"30 Items in 30 Days"
aka my heaven...I love getting rid of stuff!