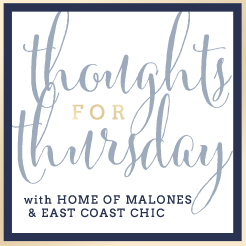 I'm joining
Annie
and
Natalie
for a new linkup called Thoughts for Thursday. This week I'm truly giving you that, some random thoughts floating around in my head.
-
Summer TV
is getting started and while many people complain that summer = terrible TV, I'm loving what is currently on. Go ahead and call me shallow, but the two shows that I'm loving the most are
Ladies of London
(Reality show on Bravo/Monday) and
Mistresses
(Starring Alyssa Milano on ABC/Monday).
- I haven't posted pictures on this blog of Jack's first birthday party yet. I had a
negative experience
with one blogger after this post on Houston Moms Blog which has now put a bad taste in my mouth not only about that blogger, but about the blogging community and the actual party. I know I shouldn't let one person dictate my feelings, but I am a people pleaser and I don't like feeling like I did something wrong when I know in my heart I didn't. Drama!
- Back to fun stuff -
fun find alert
: L'Oreal's new Voluminous Miss Manga Mascara. I learned about this mascara from Kristina of
Pretty, Shiny Sparkly
. I decided to give it a try and was not disappointed! Watch
Kristina's first impression vlog here
. It is all about volume and is the best drugstore mascara I've tried in a long time. It was very popular in the UK before launching recently in the States. I had a hard time finding it at my usual go-to places of Target and HEB grocery stores. Finally my local CVS had a few left!
- And last, but not least, if you are a fan of Tory Burch don't miss the
Facebook sale
that is going on right now until tomorrow...act fast! Sizes are already selling out. The sale is for the Ricki Flip Flop in navy, ivory and poppy red. Originally $95, on sale for $55 + free shipping! The only warning I would give you is that the reviews on Nordstrom say that it runs very narrow. If you have a wide foot, I would think twice. Also not available in 1/2 sizes so they suggest sizing up if you are in between. When they Tory Burch does a huge sale like this always wonder what's wrong with the product...they would never discount Revas this much. I think the unusually narrow sole is the reason, but some reviewers say they love the shoe. It's a great price for such a cute flip flop!
Please comment below on any topic you like...
...what summer TV shows are you watching?
...have you had any blogger or social media drama before? How did you deal?
...favorite drugstore mascara?
OR
...are you ordering these sale TB flip flops? If so, what color?
Have a great Thursday!