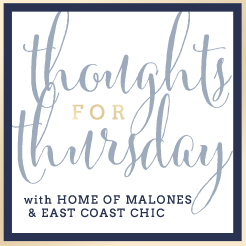 For this week's Thoughts for Thursday I wanted to share some fun things I've come across online this week:
- Enter
here
to win a pair of Freshly Picked Moccasins (Jack's favorite). If you win, feel free to donate your pair to him!
- Nordstrom is offering a
great beauty bag
with your purchase of $125 on any beauty or fragrance purchase while supplies last - online only. I wouldn't make a purchase just for this, however if you need some items already, now would be a great time to place your order.
- I fell in love with
this romper
over the weekend. The online review for it says they hate it because it was super big and baggy. That's why I loved it! It was the first romper I've found where the shorts weren't up your butt!
-
Erin Condren
is debuting the new 2014-15 Life Planners TODAY! They have been teasing some of the new features
here
that include interchangeable covers and repositional stickers. If I reorder this will be my fourth Erin Condren planner! I'm not sure if I will reorder this year. I may decide to go with something smaller, but I'm not sure yet. What planner to you love?
- If you want to learn more about Erin Condren Life Planners you can watch my unboxing vlogs from years past
here
.